Stevie Nicks and Fleetwood Mac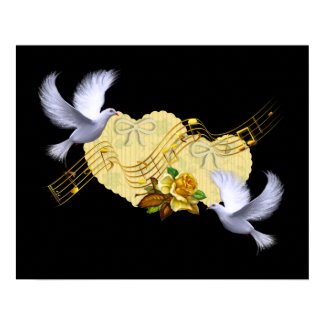 Love Peace Doves & Music Yellow Rose Poster

Stevie Nicks is probably the best known member of the world famous band, Fleetwood Mac. Of course she has a solo career all her own but like several members of the band, has continued to perform and make recordings with them. So her story and the Fleetwood Mac story are very intertwined.
Fleetwood Mac are a unique band, with a beautiful sound, and a unique way of creating that famous sound. All of its musicians are multi talented : they all sing, write songs, and play instruments. To me, the band is much more than the sum of its parts, but even so, Stevie stands out! Yes, she is beautiful, and yes, she has a very strong and unusual sounding voice, but it's her lyrics and her spirit that help her soar in the musical realm… and which set her apart from all other rock singers. Her songs are poetry set to music!
Stevie has a way with words in interviews too, so I have included some of her quotes.
The Landslide Phenomenon
Stevie Nicks' Most Famous Song
It was 1977, in many ways a very pivotal year for me. Elvis died. My sister Penny died. My daughter was born. And I heard Landslide for the first time.
The death of my sister caused a huge personal spiritual crisis for me. I just could not believe that God would take the sweetest person on Earth from me and my family. So Landslide was a song that I associated with this crisis. The Landslide brought me down, and it took a long while for me to climb back up.
But Landslide also marked the beginning of my love affair with Stevie Nicks and Fleetwood Mac. One of my 4 favorite bands of all time. (The others are the Beatles, the Moody Blues, and Coldplay.)
Landslide, Performed by Fleetwood Mac
Stevie Nicks Fleetwood Mac Songs
Stevie Nicks~Wild Heart
Stevie Nicks Solo Hits
Stevie Nicks Music~Wild Heart
Of course I own this album in several versions, casette, vinyl, CD! But then, I own every single album she ever made, including the obscure Buckingham-Nicks which is a bit of a collector's item now. Wild Heart is an apt description of her I think.  Features my favorite song of hers ever: Stand Back. Also Enchanted, Night Bird, and If Anyone Falls, among other gems.
"I was not going to be a stupid girl singer.




I was going to be way more than that."




~Stevie Nicks
Stevie Nicks~Bella Donna
Stevie Nicks Solo Hits
Features a favorite Stevie Nicks Song of Mine: Bella Donna
"Oh my goodness, look at that beautiful dress!" is what I thought when I saw this album cover. It has many hits. Yes, I own this one too. Many hits off this brilliant album. Edge of Seventeen, Leather and Lace, Bella Donna, and my favorite duet of hers: Stop Draggin' My Heart Around.
Stevie Nicks Fleetwood Mac
Or Simply, The Mac
By the time Fleetwood Mac did Tusk, they were a worldwide phenomenon, and were often called by music aficionados simply, The Mac. By this time they were a music machine, with song after song on the top of the music charts. The video of them marching with the UCLA band was a tribal event for Mac lovers.
Fleetwood Mac Perform Tusk with the USC Marching Band
Stevie Nicks Fleetwood Mac
Timespace~The Best of Stevie Nicks
Stevie Nicks Greatest Hits
Timespace~The Best of Stevie Nicks Songs
Even though I have all the other albums, I have this one too! Die hard Stevie fan, what can I say? All the Stevie Nicks solo hits you would expect!
And look at that cape! Stevie is well known for her Gypsy style of clothing and her Art Nouveau designs on the covers of her albums. I'v featured some Art Nouveau posters on this page that remind me of her style.
Stevie Nicks and Fleetwood Mac Came to Memphis in 1983
Stevie Nicks Fleetwood Mac
In 1983 I was living in Bartlett Tennessee, which is a little city outside of Memphis, a suburb really. I remember hearing on the radio that Fleetwood Mac was coming to town, and I could not wait to call Ticketmaster to get our tickets. I got them on the 14th row. A little to the left side so that meant I was on the side Stevie sang from. As it turned out the way the seats are placed in the stadium means that the 14th row is just about stage level, so the singers are right in front of you! I could not believe my good luck and very soon after the band came out and started singing Landslide. I watched Stevie's every move of course, and in one instant where she was scanning the crowd, we locked eyes. For a few seconds time stood still for me, and then she winked! Talk about excited! I don't think I came down off my cloud for a week!
Stevie Nicks~Rock a Little
Stevie Nicks Solo Hits
Stevie Nicks~Rock a Little on CD and vinyl both.
Umm, yeah, I have this one too! It's probably the least like any of her other albums, as she was in a very dark time in her life. Whacked out on drugs and alcohol and not doing well personally, she is very raw on this album. But I still love it, as her lyrics are truthful and poignant, and her voice is dark and mysterious as always.  It has rave reviews, and not so rave reviews from people who want the same thing over and over from their musical icons. I prefer truth and variety, so I love it!
Stand Back
My Favorite Song by Stevie Nicks
The soundtrack of my life story would have huge amounts of time dedicated to Stevie Nicks. My journey to autonomy runs straight along the course of her journey in songs. Stand Back represents the time when I was awakening to the notion that I was more than a wife and mother, and deserved more space in a marriage that wasn't working. The song just seemed to give me a power to move to a different place inside.
Stevie Nicks~Stand Back
Listen to Stevie Nicks Music
Stevie Nicks: Live in Chicago
Stevie Nicks Fleetwood Mac
2007 concert in Chicago with Fleetwood Mac and Stevie explains the background on each song. Features all these songs:
Stand Back
Enchanted
If Anyone Falls in Love
Rhiannon
Crash Into Me – the Dave Matthews Song, and Stevie does an excellent job performing it.
Dreams
Sorcerer
The One
Gold Dust Woman
I Need to Know – the Tom Petty Song, Again, an outstanding performance by Stevie.
Circle Dance
Landside
Sara
Fall From Grace
How Still My Love
Edge of Seventeen (Simply Outstanding!!!!)
Rock & Roll
Stevie Nicks~Edge of Seventeen
Stevie Nicks Music Videos
Who cannot relate to the raw state of a 17 year old? Another all time favorite song.
Stevie Nicks: Live at Red Rocks
Stevie Nicks Fleetwood Mac Songs
Stevie Nicks: Live at Red Rocks
Stevie Nicks~Live at Red Rocks
Red Rocks is an awesome venue in the Rocky Mountains near Denver. The rocks make all the sounds echo…for a truly rocking experience! All her solo hits and old Stevie Nicks Fleetwood Mac songs too with reverb from the Red Rocks. Beautiful! Peter Frampton and Mick Fleetwood joined her on stage for a few renditions of their old hit songs.
Stevie Nicks, Lyricist Extraordinaire
And Genius Musician Too!
Stevie has a very unique way with words and most of her songs can be written out and read like poems. She has one of the most unique musical signatures in all of rock. No other single artist moves around scales, time structures, song structures, and harmonies all in a single song the way she does. Many of the songs really should not work, but of course, they work like magic.
Stevie Nicks~Trouble in Shangri-la
Stevie Nicks Solo Hits
Includes: Trouble In Shangri-La
Candlebright
Sorcerer
Planets Of The Universe
Every Day
Too Far from Texas
That Made Me Stronger
It's Only Love
Love Changes
I Miss You
Bombay Sapphires
Fall From Grace
Love Is
"I preferred not to be laden down




with a big instrument. If you're




behind a guitar, you get used to




being behind a guitar, and you




don't really perform because you




can't. I wanted to be able to just




hold on to the mike and sing."




~Stevie Nicks
Stevie Nicks~Street Angel
Stevie Nicks Music
Includes: Blue Denim
Greta
Street Angel
Docklands
Listen To The Rain
Destiny
Unconditional Love
Love Is Like A River
Rose Garden
Maybe Love Will Change Your Mind
Just Like A Woman
Kick It
Jane
Inspiration
God's Garden
Stevie Nicks in Concert Poster
Stevie Nicks Posters
Stevie Nicks Cool Iconic Image In Concert Spotlight Fleetwood Mac 24×36 Poster
Stevie Nicks~The Soundstage Sessions
Stevie Nicks Fleetwood Mac Songs
This album was released in 2007 and features all her solo hits and her old Stevie Nicks Fleetwood Mac songs too but the sound production was re done and she talks quite a bit about the songs so you get some good background on them. There are some new versions of the old songs. Excellent, with great reviews from fans.
Art Nouveau Poster
Stevie Nicks Clothing Style
Art Nouveau Poster Like Stevie

Stevie Nicks~Enchanted
Old Stevie Nicks Fleetwood Mac
Stevie Nicks~Enchanted
A 3 CD Set of her awesome music!
Not only does it include all of the Stevie Nicks solo hits, and all the old Stevie Nicks Fleetwood Mac music she's ever done but it has unreleased gems, and B sides of her hits, plus some hits she did for movie soundtracks. A collector's dream! Rave reviews on Amazon for this boxed set of Stevie Nicks music!
Art Nouveau Poster
Stevie Nicks Clothing Style
Stevie Nicks~The Other Side of the Mirror
Stevie Nicks Solo Hits
Includes: Rooms On Fire
Long Way To Go
Two Kinds Of Love
Ooh My Love
Ghosts
Whole Lotta Trouble
Fire Burning
Cry Wolf
Alice
Juliet
Doing The Best I Can (Escape From Berlin)
I Still Miss Someone (Blue Eyes)
Poster for Crystal Visions
Stevie Nicks Posters
Stevie Nicks Poster for 2007 Crystal Vision Tour 18
Crystal Visions – The Very Best of Stevie Nicks
Stevie Nicks Greatest Hits
Crystal Visions – The Very Best of Stevie Nicks
Crystal Visions covers her entire solo career for the first time in a CD package. Featured are several previously unreleased live tracks on the CD. Crystal Visions…The Best of Stevie Nicks is exactly that. There are also a few unreleased songs for a surprise! Almost all 5 star reviews of this album. If you are a collector you want this!
Secret Love by Stevie Nicks
Listen to Stevie Nicks Music
From her In Your Dreams album:
In Your Dreams
Stevie Nicks Music
In Your Dreams
Her latest, with quintessential Stevie melodies and words.
Stevie Nicks Speaks of
In Your Dreams:
"Everything on this record is what
I really wanted to say, and
I'm back to being the poet
I always thought I was."
Stevie Nicks White Winged Dove Poster
Stevie Nicks Poster
Stevie Nicks, White Winged Dove Art Poster Print by Bob Masse, 15×24
Stevie Nicks Clothing and Her Fashion Influence
Stevie Nicks Clothing
Stevie Nicks is not only an accomplished musician, she has always been a strong fashion influence for thousands of females. Her stage outfits are kind of Bohemian meets Welsh Witch meets Hippie meets Gypsy and are a huge part of a Stevie Nicks concert performance. I love her way of dressing and it is the way I have always dressed myself. I agree with her that mystery is better than overt sexuality. At any rate, she always looks beautiful!
"I think they all went too far.




Their jeans got too low, their tops got too see-through.




Personally, I think that sexy is keeping yourself mysterious.




I'm really an old-fashioned girl,




and I think I'm totally sexy."




~Stevie Nicks
One More Art Nouveau Poster
That Reminds Me of Stevie Nicks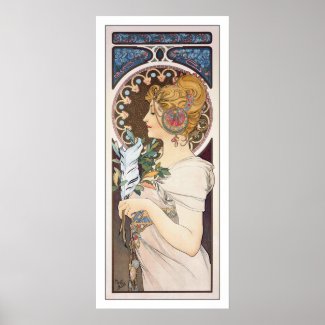 Art Nouveau Poster~Very Stevie Like

Stevie Nicks Lyrics
Stevie is still writing music, singing, and touring. Time for her to be in the Rock and Roll Hall of Fame, don't you agree?
You can find her lyrics here: Stevie Nicks Lyrics