Imagine, John Lennon's Masterpiece
Imagine Song, John Lennon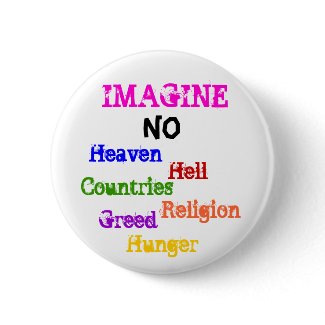 Imagine, by John Lennon, is my favorite song of all time.
Imagine. One little word that embodies so much possibility, so much promise, so much hope… by imagining we can change the whole world, one little step at a time. I keep a little sign on my desk that says it: simply "Imagine."
Before John Lennon wrote the song Imagine, I'll bet few thought of the power of that word. After he wrote it, the word became a legendary slogan of powerful potential. Such is the power of John Lennon's vision! It's a simple song, and a simple tune, but it's very moving. The words present a utopian vision of the future, and it became his most famous song after he was taken from us too soon. Of course John wrote many fantastic songs both with the Beatles and afterward on his own. But the Imagine song is his most famous.
I lived through Beatlemania, and I had all the music, all the posters, all the books, and all the memorabilia that I could ever get my hands on. I loved all the Beatles, individually and collectively, and most of their songs, but the Imagine song by John Lennon is still my favorite song of all time. I have included a few "Imagine" posters, and a few John Lennon quotes sprinkled throughout the page.
Enjoy!
Imagine Peace Button available at Zazzle
"All you need is love."
~John Lennon
Listen to Imagine
John Lennon Music Video
Imagine Lyrics By John Lennon
Imagine there's no Heaven
It's easy if you try
No hell below us
Above us only sky
Imagine all the people
Living for today
Imagine there's no countries
It isn't hard to do
Nothing to kill or die for
And no religion too
Imagine all the people
Living life in peace
You may say that I'm a dreamer
But I'm not the only one
I hope someday you'll join us
And the world will be as one I
Imagine no possessions
I wonder if you can
No need for greed or hunger
A brotherhood of man
Imagine all the people
Sharing all the world
You may say that I'm a dreamer
But I'm not the only one
I hope someday you'll join us
And the world will live as one.
Also available here: Imagine Lyrics
Imagine Song, John Lennon
John Lennon Album
 Imagine
Amazon says this: Imagine John Lennon comes from a treasure trove: the legendary musician's own collection of more than 240 hours of film and videotape, much of it never seen by the public. With cooperation from Yoko Ono in its creation, producers David L. Wolper and Andrew Solt (partners on This Is Elvis) transform the archival footage – and a monumental 36-tune soundtrack – into a spellbinding account of a complex, fascinating man. Lennon's own voice narrates "a classic film biography" (Roy Leonard, WGN-TV/Chicago).
Imagine at Strawberry Fields
Imagine, John Lennon Poster
 Studio B Imagine Strawberry Fields Memorial Poster
"I'm not claiming divinity.
I've never claimed purity of soul.
I've never claimed to have the answers to life.
I only put out songs
and answer questions as honestly as I can…
But I still believe in
peace, love and understanding."
~John Lennon
John Lennon and Art
Imagine Poster from His Art Show
 Imagine John Lennon (1988) – 11 x 17 Poster – Style B
John was actually a bit of a philosopher, and a deep thinker. Like many creative people, He was multi talented in the Arts. He not only wrote amazing songs and lyrics, he also wrote poetry and short stories and was an artist.
Ten years ago a tour of his artworks made its way around the USA. and I went to see it in Monterey, California. The drawings were quite charming.
"If everyone demanded peace
instead of another television set,
then there'd be peace."
~John Lennon
Imagine John Lennon Interview
 Lennon Remembers
Amazon says: The complete and uncensored 1970 Rolling Stone interview with John Lennon and Yoko Ono. Published on the twentieth anniversary of his death, this candid book reveals new information on the breakup of the Beatles, fellow musicians such as Bob Dylan and the Rolling Stones, Lennon's attitudes towards revolution and drugs, and his relationship with Yoko Ono. Featuring new introductions by Ono and Wenner, and containing substantial material never before seen in print, Lennon Remembers presents a compelling portrait of a complex musical genius at the height of his career. Sometimes anguished and angry, often tender and poignant, these interviews are indispensable to understanding who John Lennon was and why his legacy continues to resonate today.
Peace Poster
John Lennon Remembrance
 John Lennon People For Peace Poster Art Print
"All we are saying is
give peace a chance."
~John Lennon
John and Yoko Poster
One of Many John Lennon Posters
 John Lennon and Yoko Ono War is Over Music Poster Print – 24×36 Music Poster Print, 24×36
"The more I see
the less I know for sure."
~John Lennon
A Makeshift Peace Sign of Flowers
Lies on Top John Lennon's Strawberry Fields Memorial
 Imagine Poster Art Print
"Time you enjoy wasting,
was not wasted."
~John Lennon
The Day John Lennon Died
John Lennon Memories
Some days will never be forgotten. In my life, the death of John Lennon was one of those days, a day that marked the end of childhood.
I still remember exactly where I was when I heard the news, and the conversation I had with my husband as soon as he got to work. We heard it on the radio while he was driving there and I was at home in the kitchen. The shock of all shocks! The Beatles could never get back together now! Childhood was over.
John Lennon and His Guitar
John Lennon Poster
 24×36 Poster Print John Lennon – Sitting with Guitar
"Life is what happens
while you are busy making other plans."
~John Lennon
Imagine Tower of Peace Reykjavik, Iceland
Photo is from Wikipedia and licensed under a 2.0 Creative Commons License.
You can also see it here: Imagine Tower of Peace
The Imagine Tower of Peace is located in Iceland, and the location was chosen by John's widow, Yoko Ono, because of Iceland's use of geothermal energy which is clean energy. Construction began on October 9, 2006 and was completed October 9, 2007 when she dedicated it. It is lighted every year from October 9-December 8, the day John was murdered in New York City.
The white stone monument that the lights emanate from is carved with the words "Imagine Peace" in 24 languages, a reference to "Imagine", John's wonderful song about Peace. Yoko has said that the tower is the best thing she and John ever did.
"Yeah we all shine on,
like the moon, and the stars, and the sun."
~John Lennon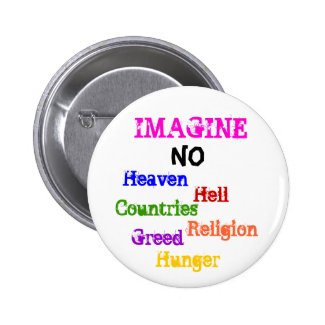 IMAGINE, NO, Heaven, Hell, Countries, Religion,… 2 Inch Round Button by DaisyMarie
Find more Imagine Buttons at Zazzle
Want a John Lennon Guitar? Click here: John Lennon Guitars