Bouzouki Facts
The bouzouki is a string instrument in the same family as the mandolin and lute. It is a mainstay of modern Greek music and was brought to Greece by immigrants fleeing Asia Minor after the 1919-1922 war. The Irish bouzouki is based on the Greek instrument, and has been popular in traditional Irish folk music since the 1960s. It's a simple yet beautiful instrument. The flat fronted body is often inlaid with elaborate mother-of-pearl designs.
The instrument is played with a plectrum, a small flat tool used for plucking or strumming. A plectrum is similar to a guitar pick, and is held in the player's hand. The bouzouki's sharp metallic sound is reminiscent of a mandolin, but pitched a bit lower. There are two main types: trichordo, with three pairs of strings (known as courses), and tetrachordo, with four pairs of strings.
Related musical string instruments include baglamas (saz), Byzantine lyra, pandura, and tambouras.
More Bouzouki Facts
Fun Fact
A person who performs on this string instrument is called a bouzoukist.
Notable bouzoukists include Andreas Karantinis, Ioannis Papaioannou, Michalis Terzis, Vasilis Tsitsanis, and Márkos Vamvakáris.
Greek Musician Playing Bouzouki
Poster Print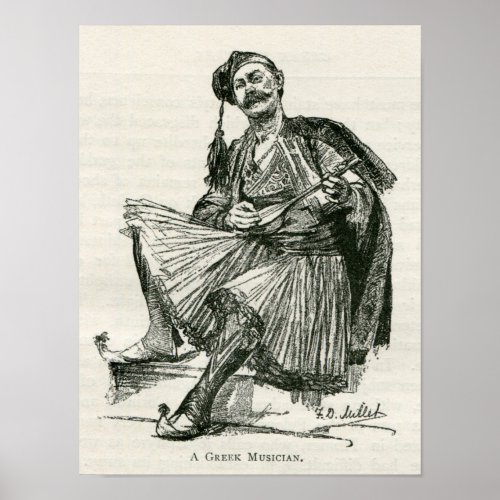 Greek Musician Playing Bouzouki Poster

Listen to the Bouzouki
Solo by Andreas Karantinis
AKTINA's Greek Music Journey featured Greek singer Melina Aslanidou with Andreas Karantinis on the bouzouki. The concert was held at the Kaye Playhouse at Hunter College in Manhattan on June 6, 2013 in honor of AKTINA FM Radio's 20th year anniversary.
We Love Bouzoukis
Shop for the Best Bouzouki Gifts
We've created more than 2,500 products for string instrument players and music lovers. Find a unique gift for your favorite bouzoukist.
Beware of copycats! Our original designs are available here and in our String Kings Music Bouzouki collection.
Find a Bouzouki Online
Roosebeck Four Course, Eight String, Greek Bouzouki
Product details:
European spruce soundboard, sheesham fingerboard, mahogany neck with beautiful custom lacewood inlays
Bowl shaped back options are sheesham, lacewood, or a combination of both
Fingering same as the higher four strings on a guitar
Scale length is 26.25 inches
Truss rod in neck
Padded gig bag
Roosebeck Greek Bouzouki with Solid European Spruce Top, Includes Gig Bag
Bowl Shaped Back Options are Sheesham, Lacewood, or a Variegated Mix of Both
Bouzouki Deals Online
Keep an eye on this automatically updating gallery of bouzoukis and accessories available on eBay. Find bargains on all kinds of stringed instruments including bouzoukis.
Shop for Bouzouki Gifts
Would you like to sell our string instrument products online and earn referral fees? Here's how to become an affiliate.
Shop for Bouzoukis and Accessories
Explore String Kings Music